The holiday season usually forces us to spend a bit more than than our monthly average: Christmas presents, weekend getaways, nights out, etc. And if you are one of the bread winners in a plus size family, we know what it feels like to dream of hiding your wallet from energetic kids who feel like shopping, going to the movies and getting ice cream every second day.
A great way to save some cash during the summer is to jump into smart grocery shopping, which seems to be a shared concern between 63% of the Australian population. The consumer advocacy group CHOICE releases every quarter a survey comparing the three main supermarkets in Australia: Aldi, Woolworths and Coles.
After selecting 29 different items, the results showed that a basket of national brand products cost $145.23 per week at Coles and $141.83 at Woolworths, including specials. Meanwhile Aldi's basket only cost $80.75. That's a massive saving of $61.08 or $64.48 if you're willing to sacrifice the national brand products.
Given that Coles and Woollies keep track of each other's prices, the gap between both of them is quite small; if you want to make a difference while shopping in these, go for the specials or the supermarket brands. You might save yourself up tp 40% when filling up your trolley! Even though the niche brand may be more appealing for the wandering shopping eye, they rarely do the trick when it comes to smart buying. Woolworths and Coles have both released phantom brands to point more consumers towards their own products: did you know, for example, that Armada cling wrap, Shine dishwashing liquid and Vevelle tissues are all owned by Woolworths?
Still, if you want to reduce your shopping expenses as much as possible and you're not an Aldi fan, you might want to remove the stigma once and for all: the CHOICE survey proved that Aldi is still cheaper when comparing 'budget baskets' between the three supermarkets: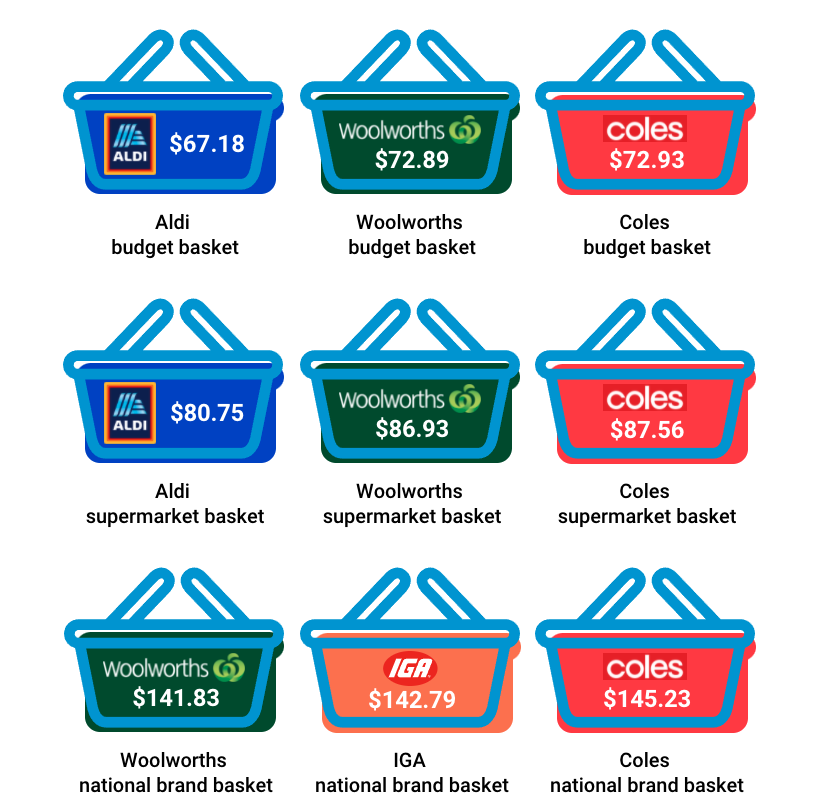 Source: CHOICE