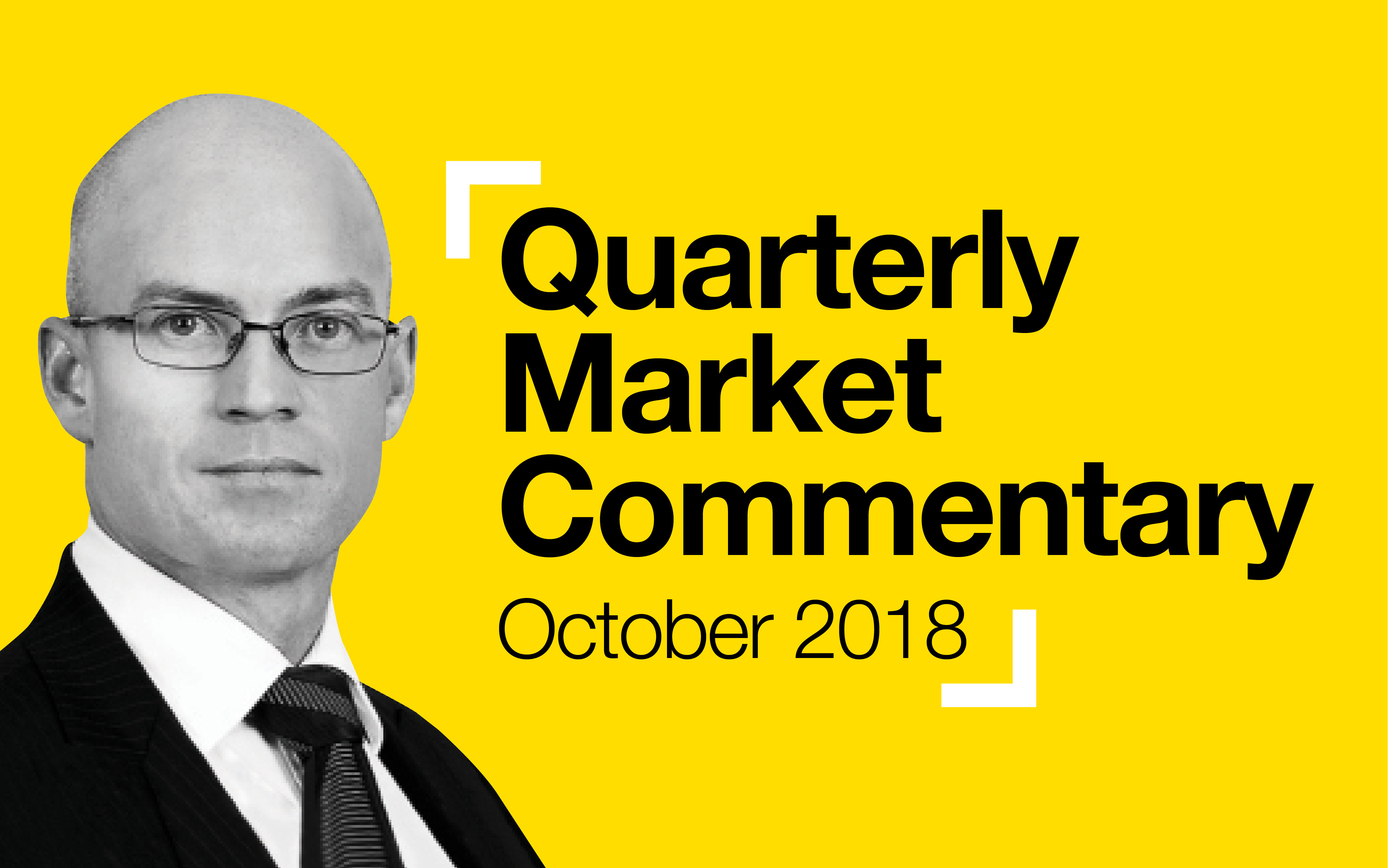 This article was prepared by Michael Furey, Principal of Delta Research & Advisory, on behalf of the HPartners Group.
Global Economy
The global economy continues to expand, largely led by Advanced economies. Chinese economic growth has slowed a little, due to US imposed tariffs, although much of the impact of tariffs on Chinese goods has been offset by appreciation of the US dollar.
Global inflation has stayed low, although there are signs of it increasing with unemployment reducing across the globe and some key commodity prices, notably oil, significantly increasing in price over recent months.
US unemployment has reached the very low level of 3.7% (lowest since 1969), and combined with strong economic growth levels, 4.2% (annualised, July 2018), sees continued positive economic momentum.
Global Markets
An early October bout of equity market volatility is apparently linked to concerns about higher inflation as US 10 year bond yields reached their highest levels for around 7 years at 3.23%. This is well short of many commentators early 2018 forecasts of 4% but does provide an indication of how jumpy markets may be if inflation (or bond yields) gets too high.
Whilst most bond yields across developed nations are up due to higher inflation expectations, it is still worth pointing out that Central Bank intervention is still occurring in Europe and Japan where many of their sovereign bonds continue with negative yields (i.e. you pay the central banks to lend them money).
US sharemarkets continue their stellar run, largely supported by the technology sector, and the NASDAQ is up over 20% at the time of writing. On the flipside, the Tariffs imposed on Chinese goods have kept its sharemarket in bear territory with the CSI300 still down around 20% from its January highs. This has flowed into weaker returns for the broader MSCI Emerging Markets, which has returned around zero in 2018.
Last month the US Federal Reserve continued its increase in cash rates moving up to 2% with another increase expected in December. Given the strong economic data mentioned above, there is little sign of the Federal Reserve halting its rate increase for some time.
Global Risks
The risks remain the same as for most of recent times … US Equity markets are expensive and International Trade comes with greater uncertainty seen for many years.
Australian Economy
Growth in resource exports and higher levels of public infrastructure spending have produced strong economic growth for Australia with 3.4% real GDP growth for the June quarter. Resources have also helped the Australian government improve its budget position which may position it for some handouts via lower tax or rebates prior to next year's election.
Unemployment has dropped a little to 5.3%, although wage inflation continues to be low. Consumer price inflation is also low at 2.1% providing little impetus towards the Reserve Bank increasing its cash rates.
Australian Markets
After a strong first half of the year, the Australian sharemarket tempered a little with the MSCI Australian index only returning a little over 1% in the quarter ending 30 September. Given the Australian economy's reliance on China, the recent US-imposed Tariffs, weaker Chinese growth, and horrible example of greed shown at the Royal Commission into Financial Services misconduct, are the main reasons for subdued performance compared to overseas developed markets.
Australian bonds have continued to be relatively steady as the Reserve Bank have kept interest rates at 1.5% with little sign of future change.
The Australian dollar has recently weakened against the US Dollar and currently trades a little over $0.70 US at the time of writing (5 October). This lower level is due to the relative weaker Australian economy (compared to the US) and the increasing differential in respective cash rates (1.5% for Australia vs 2% to 2.25% for US).
Australian Risks
The major economic and market risks specific to Australia remain … that is, the potential downward snowballing of residential property prices in Sydney and Melbourne, and further growth decline of the Chinese economy.
Sydney and Melbourne residential property prices have continued to fall although these reductions are still considered justified given previous sharp short-term growth in prices during 2016-17. Declines are not yet considered a major concern but with banks withdrawing new lending for development and investing there is still a case for further decline likely to be concerning for the economy.
As with the rest of the world, uncertainties around international trade is of particular concern for Australia as the United States is specifically targeting Australia's biggest trade partner, China. More tariffs have recently been imposed over the last quarter and some economists and their institutions expect things to get worse and move closer to an all-out Trade War. This would result in greater financial market volatility than currently experienced, but at this point in time an all-out Trade War is regarded as speculation. Please note, the decline in the Chinese Currency versus the US Dollar, has offset most, if not all, of the imposed tariffs.